Stuart Ware
My lifelong interest, passion, perhaps even obsession, with tennis began at the tender age of 5, when my father handed me a racquet (with a whopping 5 1/8" grip).
"Son, this is a tennis racquet, you hold this end."
"This is a tennis ball. Hit it with the other end."
The tennis ball was connected to a length of elastic which was tied to a brick on the ground.
"Hit the ball and if it comes back to you, hit it again. If it doesn't, hit it harder next time."
This was the first and only tennis lesson I ever had and is a pretty accurate portrayal of the event. This moment struck a chord with me and gave me a sense of direction that developed into a determination to really play the game.
The challenge to get the ball to go backward and forward more often, more efficiently and more effectively is still the same challenge I have today. I have searched for as much information from as many sources as I can find to gain knowledge of the game of tennis and share that knowledge with others, so that they too may come to appreciate what really is a game for everyone, for life.
From this childhood introduction, Stuart's love for tennis has developed into a career spanning over 30 years.  Stuart coaches full time and has been coaching since 1982.  In addition to coaching at Tall Gums, Stuart also trains tennis players at local state and private schools, including teams competing in interschool competitions.
Stuart's dedication to tennis is well recognised and he is the recipient of multiple awards, including Tennis Australia "Qld Coach of the Year" 1999, Australian Sports Medal 2000 and the 1995 Australia Day Council Moreton Shire Council Award for Outstanding Achievement in Sport.
In addition to coaching, Stuart has spent several years lecturing with the University of Queensland Human Movement Department, teaching 3rd year Human Movement students about tennis and tennis coaching. He also teaches at local high schools as part of their health and physical education programs.
Professional Qualifications, Memberships & Experience
Tennis Australia – Advanced Coach
Tennis Australia – Development & Advanced Course Lecturer and Examiner
Sports Medicine Australia – Senior First Aid
Australian Sports Medicine Federation (Intermediate)
Tennis Coaches Australia & Tennis Coaches Australia – Current and past president, vice president, honorary secretary, national delegate, course coordinator, committee member
Queensland Trainers Association
Track & Field Coaches Association of Australia (Hon)
United States Racquet Stringers Association Australia
Racquet Stringers Association of Australia Inc
Australian liaison for the Brazilian Davis Cup Team
Manager, Qld 11 & Under, 13 & Under, 15 & Under and 17 & Under Boys and Girls teams to the National  Little Masters Championships, Sydney 1996-1999
Statistician for ABC TV National Little Masters Tournaments, Sydney 1996-1999
Western Districts Tennis Association President – 16 years
Champions Tennis Club President – 18 years
Ipswich & West Moreton Tennis Association – 10 years, including President
Department of Education Child Protection Course 2000
Blue Card holder
Founding member of Ipswich District Club Tennis
Founding member of Tennis Ipswich INC.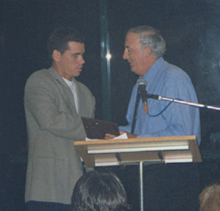 Stuart accepting his Tennis Coaches Australia "Coach of the Year" award in 1999.